Every fall, our Seventh and Eighth Grade students are invited to submit artwork to The Scholastic Art Awards of New Hampshire (SAANH). Approximately 2,500 works were submitted this year from across the state in 17 categories ranging from drawing and painting to sculpture and mixed media. Of these, about forty percent received recognition in the form of a Gold Key, a Silver Key, or an Honorable Mention.
While most Middle School students were having fun skiing on a wintry Wednesday, a handful of students and I waited anxiously for the announcement by SAANH regarding this year's winners. By the end of the day the results came in and we were excited to learn that four SRS Eighth Grade students won an award! Only a handful of eighth graders are recognized each year, so this is a great accomplishment!
Congratulations to the following SRS award recipients:
Maggie
Into a Fairytale
Gold Key

Victoria
Bird's Eye View
Silver Key

Lily
Cambridge Row Houses
Silver Key

Garrett

"Empire State View"
"Grand Tetons"
Honorable Mention
Although Hazel and Lillian did not receive an award, I would love to recognize them for their courage in entering against very stiff competition:
I am sure I can speak for the whole SRS community by saying how proud we are of all of them. Well done!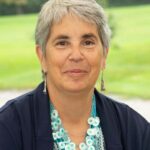 Barbara Morrison, Art Teacher